In 2018, the Short Film Corner – with the support of NISI MASA – launched the Focus CoPro', an event dedicated to first feature film projects, in the aim of highlighting young talents on an International scale. The idea is that any filmmaker, whose short is either selected in the Official Competition, the Directors' Fortnight, and the Critics' Week or presented at the Short Film Corner can apply to present her/his feature film project during a dedicated event of the festival – 8 projects will be selected! With the intention of providing an additional support to filmmakers bridging the gap from short to feature, the Short Film Corner and the Pop Up Film Residency decided to join forces.
The 2nd edition of Focus CoPro' took place on the 21st of May and the project 'Piggy' by Carlota Pereda was selected for the next Pop Up Film Residency!
Start Residency: tba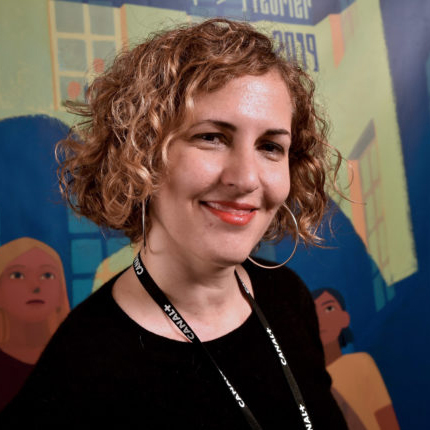 Carlota Pereda
Director (Spain)
 Carlota Pereda has spent her career working in TV fiction. She has been a screenwriter and script supervisor for series such as Periodistas and Motivos Personales, has directed series,"El secreto de Puente Viejo", LEX and Lalola.
Her fist short, The Blondes, was selected in over 137 festivals worldwide and/or awarded in prestigious festivals such as Medina del Campo, La Semana del Corto, Certamen Internacional de Cortometrajes Ciudad de Soria or CortoEspaña.
This project is the leap to feature film of Pereda's short 'Piggy', that notably won the Goya Award for Best Short Film. Budgeted at 2,5 Million Euros, the horror film is set for a shooting in the summer 2020. Merry Colomer produces on behalf of Morena Films.
PIGGY
Sara is an overweight teen that lives in the shadow of a clique of cool girls holidaying in her village. No one defends her when she's bullied at the pool in front of an unknown man. Her clothes are stolen and Sara must get home with only her bikini. The long walk home will mark the rest of her life.