Bucharest is a booming city with many large infrastructure projects changing the old face of the city.
Known in the past as "The Little Paris," Bucharest has changed a lot lately, and today it has become a very interesting mix of old and new that has little to do with its initial reputation. Finding a 300-year-old church, a steel-and-glass office building and Communist-era apartment blocks next to one another is a common sight. Bucharest offers some excellent attractions, and has, in recent years, cultivated a sophisticated, trendy, and modern sensibility that many have come to expect from a European capital. 
During their stay, residents will have the opportunity to exchange with local film professionals while being mentored by international professionals. 
The Bucharest residence is hosted by Ada Solomon.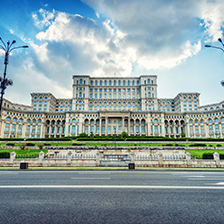 Ada Solomon
Ada Solomon is a Romanian producer, founder of Hi Film Productions and Micro Film. 
She has produced over 60 films such as I do not care if we go down in history as Barbarians (Radu Jude, 2018, Grand Prix Karlovy Vary), Aferim! (Radu Jude, 2015, Silver Bear winner at the 65th Berlinale) and Child's Pose (Calin Netzer, 2013, Golden Bear Berlin). She has worked with the most promising Romanian filmmakers, such as Cristian Nemescu, Ivana Mladenovic or Răzvan Rădulescu, was an executive producer for Maren Ade's Toni Erdmann, and a producer on Radu Jude`s Bad Luck Banging or Loony Porn (Golden Bear winner at the 71st Berlinale). 
Ada co-produced with over 15 countries & was involved in European filmmakers debuts as Chiara Malta, Marta Bergman, Federico Bondi, Adriano Valerio, and in accomplished directors' films such as Tomasz Wasilewski, Slobodan Sijan or Dragomir Sholev. 
European Film Academy Deputy Chairwoman, Executive President of EWA Network, EAVE national coordinator, ACE board member, winner of the European Co-production Award – Prix Eurimages 2013.